Indoor Cat Avoidance
INDOOR PET WIRED OR WIRELESS HIDDEN FENCE CONTAINMENT SYSTEMS
If your dog or cat is welcome in your home but perhaps there's one room or area you'd like to keep pet-free without raising your voice or installing unsightly gates. You can effectively keep your pet in areas you choose around your home. Keep Fido off the bed, out of the dining room, and away from your kitchen counters with one of our indoor wired or wireless fence systems. And our indoor cat fencing is the best way to keep claws off your couch.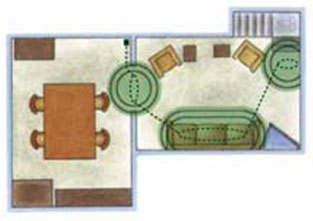 Your pets easily learn where they can go - & not go.
Dog in the kitty litter box? Cat climbing the Christmas tree? Food on the kitchen island? We have an indoor wired or wireless pet containment system for any lifestyle need. Enjoy your pet's company in your home and regain control of your house with our indoor dog and cat fencing.

Your Dealer can recommend and install an indoor wired or wireless fence that will keep your pet in — or out — of any area you choose. Your pet wears the same receiver indoors or out. The wired or wireless dog containment systems work with Hidden Fence receiver collars, so it's a great way to expand the value of your Hidden Fence purchase!
INDOOR WIRED & WIRELESS DOG FENCES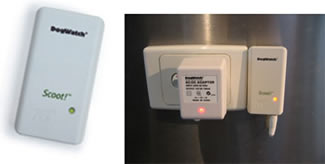 Hidden Fence Scoot
Scoot is a extra small transmitter and wire that can be discreetly hidden under the lip of a kitchen island, around the edge of a window, and in many other small areas. This indoor system works quietly, effectively and hidden from view making it seem like a wireless fence. Scoot! Is an ideal solution for studios and apartments, and also works great as a cat fencing solution!
Hidden Fence Skedattle
The Skedattle is our most flexible solution to keep your pet safe inside since it is a  wireless fence. Hidden Fence Skedattle can emit a wireless fence signal with this unit. The system is ideal for keeping your pet out of rooms with wide entrances and away from foyers and stairs.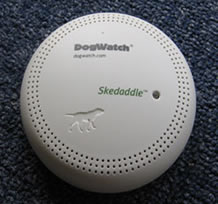 DogWatch Indoor wired or wireless dog fences work wherever you need them to keep your pet where you want him.
Interior Installation is Simple.
Just place the Hidden Fence wireless fence transmitter in the area you want to protect and create an instant, wireless fence barrier, easily adjusted by you. Our wireless dog fences will keep your pet out of the dining room, away from an entrance, trash barrel – you name it.

If you want to keep your pets out of several rooms, your Hidden fence Dealer can install the Scoot!™  wired indoor system for you.

Live comfortably with your pets in your own home! Contact your local Hidden fence Dealer for an installation plan and an estimate for one of our wired or wireless dog fences that will solve your indoor pet containment needs.
ONLINE QUOTE click here Tell Us About YOUR PET